How to fix airpods connected but no sound issue? Several Apple users have reported that they are unable to hear any sounds when using their AirPods. The AirPods are connected, but there is no sound. AirPods not playing sound is not an uncommon problem. Using this troubleshooting guide, I'll show you how to fix AirPods sound issues once and for all!
The AirPods allow you to listen to music, podcasts, audiobooks, take phone calls, and use Siri. Sometimes you may notice that the AirPods are not playing music from your iPhone and do not know what to do. Your AirPods might not play sound if you find them frustrating. Well, if that's the case, then here are the steps that will help you fix the AirPods not playing audio issue.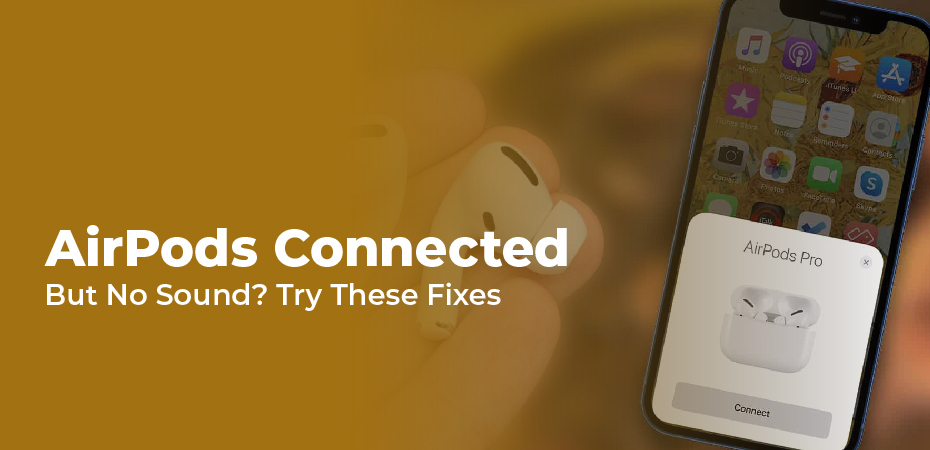 AirPods Connected But No Sound? Try These Fixes
Charge the AirPods
There is a possibility that your AirPods won't function properly if the battery status is low. Either the volume will be low or there will be no sound at all. If your AirPods are running low on battery, make sure you charge them.
Check for connection conflicts.
When using multiple Bluetooth-enabled devices, it's crucial that unused Bluetooth devices are turned off or disconnected. In this way, connection conflicts can be avoided. Make sure you don't stand more than 10 meters away from your iPhone or iPad with AirPods connected.
Don't use devices that use the same frequency as Bluetooth, such as Wi-Fi. Other wireless technologies, however, do not use the same frequency as Bluetooth. Don't use microwave ovens, wireless video cameras, cordless phones, or other similar devices.
Adjust the settings.
Your audio settings could have been changed, which is causing no sound to come out of your AirPods. You can maximize the volume on your iPhone or iPad, but if you do not remove the volume limit, it will not work. In order to hear the sounds from your AirPods, you must also check the Bluetooth settings.
Here's how you can do it:
Your iOS device's settings can be accessed by going to the Settings app.
Then, choose the Accessibility option under General.
Make sure that the L and R balance value is in the middle when you tap the Audio/Visual option.
To access the music on your iPhone or iPad, go to the Settings app and select the Music option.
Increase the volume limit by dragging it up.
After that, go to the Settings menu again and tap on the Bluetooth option.
Turn off Automatic Ear Detection by tapping the AirPods option at the bottom of the screen.
You should be able to hear sounds from your AirPods now that you have the correct settings on your iPhone or iPad. At this point, if you are still not hearing anything, you need to check the software on your device, which we will cover next.
Update Software to Latest Version
Operating systems sometimes have bugs or glitches. As more apps are developed today, your operating system needs to keep up with them as well. Thanks to developers, the latest versions of your operating system include these bug fixes.
Updates for iPhones and iPads are relatively simple. The only thing you need to do is go to the Settings of your iPhone or iPad and tap General. Choose Software Update, then follow the instructions.
The audio on your AirPods should work after you fix bugs on your iPhone or iPad. There is no need to worry if there are bugs in the AirPods firmware, as it will be automatically updated once you connect them to your device.
Refresh Bluetooth Connection
If you leave your Bluetooth on for a long time, you may experience connection problems. Wi-Fi, on the other hand, isn't designed to last for a long time and has a wide range. If your AirPods aren't working, you can fix it by refreshing the Bluetooth connection.
You can do this by going to the Settings of your iPhone or iPad and tapping the Bluetooth option.
To disable the Bluetooth connection, toggle the button. To enable it again, toggle the button after a minute. Connect your AirPods to your device by tapping the name of your AirPods on the list of Bluetooth devices.
Reset, Forget and Pair Again
In some cases, even after refreshing your Bluetooth connection, it will not work due to corrupted profile settings. This can happen when the connection unexpectedly breaks. As a result, the Bluetooth connection profile may be changed. By pairing it again, you will be able to rebuild the profile.
Here's how you can do it:
Go ahead and open the Settings app on your iPad or iPhone.
Then tap on Bluetooth and then tap the ( i ) icon beside your AirPods name.
Then tap Forget This Device and confirm the process.
Do a force restart on your iPhone or iPad and wait for it to complete the startup process.
You should close the lid of your charging case and wait about 30 seconds before putting your earbuds back in.
Once the case is open, put the earbuds back in. For 15 seconds, hold down the Setup button of the case until the LED flashes amber.
When you're finished charging your Airpods, close the lid and wait for a few seconds before opening the lid again.
When a setup animation appears on your iPhone or iPad, bring your AirPods case near it.
After you have connected your AirPods to your device, tap Connect and follow the remaining instructions.
Your Bluetooth connection should be fixed after rebuilding the connection profile. Your AirPods' audio should now be functioning properly.