Is the Mail app on your iPhone or iPad displaying the "Cannot Verify Server Identity" error when you try to send or receive emails? Most likely, that is because the Mail app cannot securely communicate with the email provider's server. The email provider's Secure Socket Layer (SSL) certificate, for example, maybe expired or untrusted, resulting in this error.
There are many other factors that can cause the Mail app to display this error, such as software bugs, poor network connections, server downtime, and temporary system glitches. Here are some solutions that users who encountered the error were able to resolve. Additionally, we'll outline other effective solutions we've discovered through our own experiments.
First and foremost, make sure your internet connection is active. Launch your web browser and see if you can access any web pages. This will help you figure out if your internet is up and running. One of the solutions listed below should work if the problem isn't with your connection.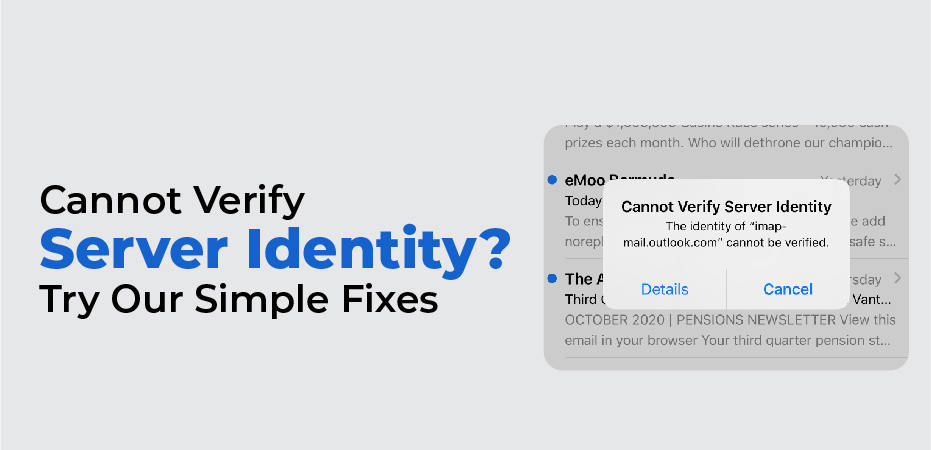 Cannot Verify Server Identity? Try Our Simple Fixes
Close and Reopen the Mail App
Open the iOS App Switcher by swiping up from the bottom of the screen. When you double-click the Home button on an iPhone or iPad with a physical home button, the App Switcher is displayed. After that, swipe up until the Mail app disappears from the screen.
If you are still experiencing errors when you reopen Mail, you can try the following troubleshooting steps.
Switch to Cellular Connectivity
In this Apple Discussion thread, some iPhone users report that the error message only appears when accessing mail via Wi-Fi. In this case, switching to cellular data or mobile data service solved the problem. Switch to cellular data if you continue to receive the "Cannot Verify Server Identity" error on a Wi-Fi connection.
Restart Your iPhone or iPad
If the Mail app is unable to verify or identify the email server, restarting your device may fix temporary glitches.
Slide the "slide to power off" slider to the right in Settings > General > Shut Down.
Wait for your device to shut down for about 10-20 seconds. You can then power it back up by pressing the side button. Launch the Mail app and check if you can send and receive emails without any error messages after enabling cellular data or joining a Wi-Fi network.
Check Email Provider Status
In the event that the email client servers are down, the Mail app might not be able to verify the account's identity. Check the status of your email provider's servers using third-party tools like DownDetector.
In the case of Gmail accounts, for instance, type "gmail" into the search bar of DownDetector. If you type "outlook" or "yahoo mail" in the search bar, the server status for Outlook and Yahoo! Mail will be displayed.
You would need to wait until your email provider resolves the server-side problem if DownDetector reports server downtime. Otherwise, try the troubleshooting solutions below.
Disable Secure Socket Layer (SSL) Encryption
The "cannot verify server identity" error has been resolved for some iPhone and iPad users by turning off Secure Socket Layer (SSL) encryption for their email account. You can try that on your device to see if it yields the desired result.
Navigate to the Settings app and select Mail.
Select Accounts.
Choose the affected account under the Accounts section.
Continue by selecting the account again.
Select Advanced.
Check the box for Use SSL under the "Incoming Settings" section.
Incoming emails sent to that particular address will no longer be encrypted using SSL. Even though this troubleshooting trick might fix the issue, it's important to note that disabling this option makes incoming emails less secure.
Disable and Re-Enable the Account
Disabling the problematic account temporarily could cause the Mail account to verify the email client's server. The email account will only be removed from your Mail app, not from your device. To do so, follow these steps:
Navigate to Mail > Accounts in the Settings app and select the affected account.
Disable the Mail option.
When you are ready, enable the Mail option again.
That will force the Mail app to synchronize and verify the email address from scratch. You can delete your email account (see steps in the next section) and reconnect it from scratch if the problem persists.
Delete and Re-Add Email Account
As soon as you remove the problematic account from the Mail app, it will also be deleted from your iPhone or iPad. This troubleshooting technique has worked for some iPad users. You can delete an account on your iPhone or iPad by following these steps:
Select the problematic account from the Mail settings menu (Settings > Mail > Accounts).
Select Delete Account.
A warning will appear notifying you that deleting the account will erase the calendars, contacts, and other data associated with the account.
To proceed, select Delete from My iPhone.
Navigate back to the iOS Accounts settings menu and select Add Account.
Choose the client/provider for the account.
Sign in to the account with your credentials.
Upgrade or Update iOS
If you haven't installed an iOS update in some time, the "Cannot Verify Server Identity" error may be caused by a bug in either your iOS build or in the Mail app.
Connect your iPhone or iPad to a Wi-Fi network, select Settings > General > Software Update, and press Download and Install.
Whenever an OS update is installed on your device, the Mail app will also be updated.
Alternatively, if you witnessed this error after installing an unstable iOS update or a Beta iOS build, consider downgrading your iPhone. Learn how to downgrade your iPhone correctly by reading this guide on rolling back an iOS update.
Enjoy a hassle-free emailing experience
Despite our confidence that at least one of these recommendations will resolve the issue, if the problem persists, you should contact your email provider.
Resetting your iPhone's network settings is also an option (go to Settings > General > Reset > Reset Network Settings). This will eliminate any network-related issues preventing the Mail app from communicating with your email client-server.