Are you a GTA addict too? Don't feel alone, we all are! Well, it is no wonder Grand Theft Auto is 5th most addictive game out there. The game has many addictive versions from GTA Vice City to GTA V, but the San Andreas is super-hooked and fun, especially when you know the hack of blowing everyone up, don't you concur? So, in this guide, we will tell you all the cheats for GTA San Andreas Cheats for Xbox One.
The gameplay of San Andreas
Launched in 2004, GTA San Andreas follows the story of protagonist Carl Johnson and his shenanigans in the universe of GTA. The CJ is based in L.A or Los Angeles, where street crimes are rampant and mob rule with impunity. The adventures of CJ led him to swing between many regions from Los Santos to Las Ventura.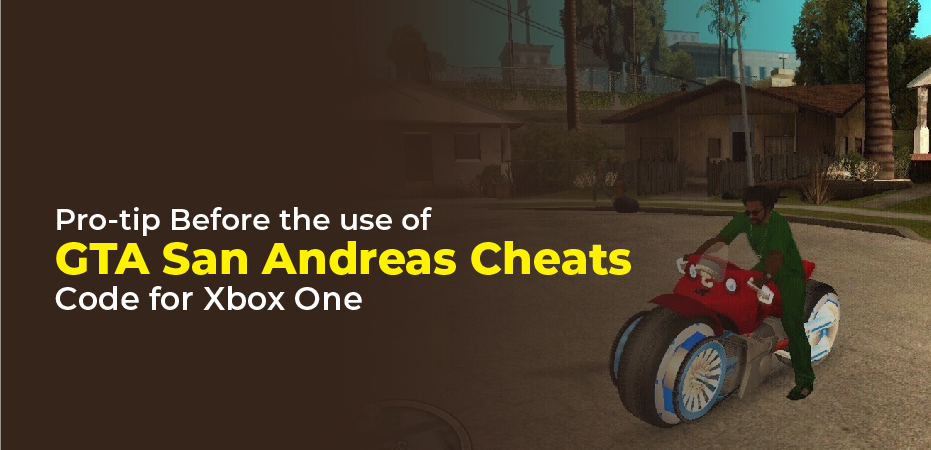 Pro-tip: Before the use of GTA San Andreas Cheats Code for Xbox One
'Save Game' is the primary step to do before pushing your controller strings for cheats. Few of the effects of the cheat are permanent and you cannot undo it until starting the game from the start. gains have gone in a second! That would be vexing, right? So be attentive and saved the game progress first.
GTA San Andreas Cheats for Xbox One
They are a total of 90 in GTA San Andreas cheats for Xbox One. They are:
Aggressive Traffic: RT, B, RB, LT, LEFT, RB, LB, RT, LT
All cars have nitrous: LEFT, Y, RB, LB, UP, X, Y, DOWN, B, LT, LB, LB
All Traffic is Junk Cars: LT, RIGHT, LB, UP, A, LB, LT, RT, RB, LB, LB, LB
ATV Quad: LEFT, LEFT, DOWN, DOWN, UP, UP, X, B, Y, RB, RT
Beach Party: UP, UP, DOWN, DOWN, X, B, LB, RB, Y, DOWN
Black traffic: B, LT, UP, RB, LEFT, A, RB, LB, LEFT, B
Blow up All Cars: RT, LT, RB, LB, LT, RT, X, Y, B, Y, LT, LB
Bounty on Your Head: DOWN, UP, UP, UP, A, RT, RB, LT, LT
Cars Fly: UP, DOWN, LB, RB, LB, RIGHT, LEFT, LB, LEFT
Chaos Mode: LT, RIGHT, LB, TRAINGLE, RIGHT, RIGHT, RB, LB, RIGHT, LB, LB, LB
Cloudy Weather: LT, DOWN, DOWN, LEFT, X, LEFT, RT, X, A, RB, LB, LB
Drive on Water: RIGHT, RT, B, RB, LT, X, RB, RT
Faster Cars: RIGHT, RB, UP, LT, LT, LEFT, RB, LB, RB, RB
Clock: B, B, LB, X, LB, X, X, X, LB, Y, B, Y
Faster Game Play: Y, UP, RIGHT, DOWN, LT, LB, X
Fat CJ: Y, UP, UP, LEFT, RIGHT, X, B, DOWN
Flying boats: RT, B, UP, LB, RIGHT, RB, RIGHT, UP, X, Y
Foggy Weather: RT, A, LB, LB, LT, LT, LT, A
Full Health, Full Armor, $250,000: RB, RT, LB, A, LEFT, DOWN, RIGHT, UP, LEFT, DOWN, RIGHT, UP
Funhouse Theme: Y, Y, LB, X, X, B, X, DOWN, B
Gangs Control the Streets: LT, UP, RB, RB, LEFT, RB, RB, RT, RIGHT, DOWN
Get Parachute: LEFT, RIGHT, LB, LT, RB, RT, RT, UP, DOWN, RIGHT, LB
Hitman in all weapons: DOWN, X, A, LEFT, RB, RT, LEFT, DOWN, DOWN, LB, LB, LB
Hydra: Y, Y, X, B, A, LB, LB, DOWN, UP
Infinite Ammo: LB, RB, X, RB, LEFT, RT, RB, LEFT, X, DOWN, LB, LB
Infinite Lung Capacity: DOWN, LEFT, LB, DOWN, DOWN, RT, DOWN, LT, DOWN
Insane Handling: Y, RB, RB, LEFT, RB, LB, RT, LB
Jump High: UP, UP, Y, Y, UP, UP, LEFT, RIGHT, X, RT, RT
Massive Bunny Hops: Y, X, B, B, X, B, B, LB, LT, LT, RB, RT
Maximum Muscle: Y, UP, UP, LEFT, RIGHT, X, B, LEFT
Respect: LB, RB, Y, DOWN, RT, A, LB, UP, LT, LT, LB, LB
Maximum Sex Appeal: B, Y, Y, UP, B, RB, LT, UP, Y, LB, LB, LB
Night: RT, A, LB, LB, LT, LT, LT, Y
Orange Sky and Time Stopped at 21:00: LEFT, LEFT, LT, RB, RIGHT, X, X, LB, LT, A
Overcast Weather: RT, A, LB, LB, LT, LT, LT, Y
Pedestrian Riot (cannot be disabled): DOWN, LEFT, UP, LEFT, A, RT, RB, LT, LB
Pedestrians Attack with Guns: A, LB, UP, X, DOWN, A, LT, Y, DOWN, RB, LB, LB
Pedestrians Have Weapons: RT, RB, A, Y, A, Y, UP, DOWN
Perfect Handling: Y, RB, RB, LEFT, RB, LB, RT, LB
Pink Traffic: B, LB, DOWN, LT, LEFT, A, RB, LB, RIGHT, B
Rainy Weather: RT, A, LB, LB, LT, LT, LT, B
Recruit Pedestrians to Gang: DOWN, X, UP, RT, RT, UP, RIGHT, RIGHT, UP
Reduced Traffic: A, DOWN, UP, RT, DOWN, Y, LB, Y, LEFT
Sandstorm: UP, DOWN, LB, LB, LT, LT, LB, LT, RB, RT
Skinny: Y, UP, UP, LEFT, RIGHT, X, B, RIGHT
Slower Gameplay: Y, UP, RIGHT, DOWN, X, RT, RB
Spawn Bloodring Banger: DOWN, RB, B, LT, LT, A, RB, LB, LEFT, LEFT
Caddy: B, LB, UP, RB, LT, A, RB, LB, B, A
Spawn Dozer: RT, LB, LB, RIGHT, RIGHT, UP, UP, A, LB, LEFT
Hotring Racer 1: RB, B, RT, RIGHT, LB, LT, A, A, X, RB
Spawn Hotring Racer 2: RT, LB, B, RIGHT, LB, RB, RIGHT, UP, B, RT
Hunter: B, A, LB, B, B, LB, B, RB RT, LT, LB, LB
Spawn Jetpack: LB, LT, RB, RT, UP, DOWN, LEFT, RIGHT, LB, LT, RB, RT, UP, DOWN, LEFT, RIGHT
Spawn Monster Truck: RIGHT, UP, RB, RB, RB, DOWN, Y, Y, A, B, LB, LB
Ranger: UP, RIGHT, RIGHT, LB, RIGHT, UP, X, LT
Rhino Tank: B, B, LB, B, B, B, LB, LT, RB, Y, B, Y
Spawn Romero: DOWN, RT, DOWN, RB, LT, LEFT, RB, LB, LEFT, RIGHT
Stretch: RT, UP, LT, LEFT, LEFT, RB, LB, B, RIGHT
Spawn Stunt Plane: B, UP, LB, LT, DOWN, RB, LB, LB, LEFT, LEFT, A, Y
Tanker: RB, UP, LEFT, RIGHT, RT, UP, RIGHT, X, RIGHT, LT, LB, LB
Spawn Trashmaster: B, RB, B, RB, LEFT, LEFT, RB, LB, B, RIGHT
Suicide: RIGHT, LT, DOWN, RB, LEFT, LEFT, RB, LB, LT, LB
Sunny Weather: RT, A, LB, LB, LT, LT, LT, X
Super-Punch: UP, LEFT, A, Y, RB, B, B, B, LT.
Taxis Have Nitrous & Bunny Hop: UP, A, Y, A, Y, A, X, RT, RIGHT
Traffic is country vehicles: Y, LEFT, X, RT, UP, LT, DOWN, LB, A, LB, LB, LB
Traffic is Fast Cars: UP, LB, RB, UP, RIGHT, UP, A, LT, A, LB
Vehicle of Death: LB, LT, LT, UP, DOWN, DOWN, UP, RB, RT, RT
Vortex Hovercraft: Y, Y, X, B, A, LB, LT, DOWN, DOWN
Wanted Level Down: RB, RB, B, RT, UP, DOWN, UP, DOWN, UP, DOWN
Wanted Level Up: RB, RB, B, RT, LEFT, RIGHT, LEFT, RIGHT, LEFT, RIGHT
Weapon Set 1 Bat, Pistol, Shotgun, Mini SMG, AK 47, Rocket Launcher, Molotov Cocktail, Spray Can, Brass
Knuckles): RB, RT, LB, RT, LEFT, DOWN, RIGHT, UP, LEFT, DOWN, RIGHT, UP
Weapon Set 2 (Knife, Pistol, Sawed-Off Shotgun, Tec 9, Sniper Rifle, Flamethrower, Grenades, Fire Extinguisher): RB, RT, LB, RT, LEFT, DOWN, RIGHT, UP, LEFT, DOWN, DOWN, LEFT.
Weapon Set 3 (Chainsaw, Silenced Pistol, Combat Shotgun, M4, Bazooka, Plastic Explosive): RB, RT, LB, RT, LEFT, DOWN, RIGHT, UP, LEFT, DOWN, DOWN, DOWN