Pokémon TCG: Hidden Fates is both a collector's dream and a player's paradise, containing all-time favorites! You will find everything you need to start collecting this unique expansion in the Pokémon Trading Card Game: Hidden Fates Elite Trainer Box.
There are ten Hidden Fates booster packs included in the box. You also get a piece of art foil on a promo card featuring the first TAG TEAM trio, Moltres&Zapdos&Articuno-GX! Along with the card sleeves, this box also includes plenty of Energy cards that will help keep these cards looking pristine, along with a number of other Legendary cards. A handy set of accessories like dice and condition markers, a handy player's guide that includes a handy list of cards, and useful strategies that will help you become familiar with the game, will help you get started. Pokémon TCG: Hidden Fates Elite Trainer Box will shine a bright light on your future!
Hidden Fates Elite Trainer Box: What is it?
The Hidden fates ETB contains everything you need to start playing the TCG. The box includes dice, sleeves, ten booster packs containing ten cards each, 45 energy cards, markers, and a player's guide.
There is also a limited edition full art Moltres, Articuno, and Zapdos GX card in every package.
The Hidden Fates Trading Card Game set was released in 2019 and instantly became a fan favourite due to the inclusion of popular pokemon such as Charizard and the shiny vault. This is a special section of the TCG containing shiny variants of specific Pokemon. This set might contain Shiny Charizard or Mewtwo, for instance.
The result was that the ETB and booster boxes and packs for Hidden Fate quickly sold out.
In spite of its popularity, the set was not reprinted until this year. Since the set is limited, its value has soared, making it an attractive investment for many.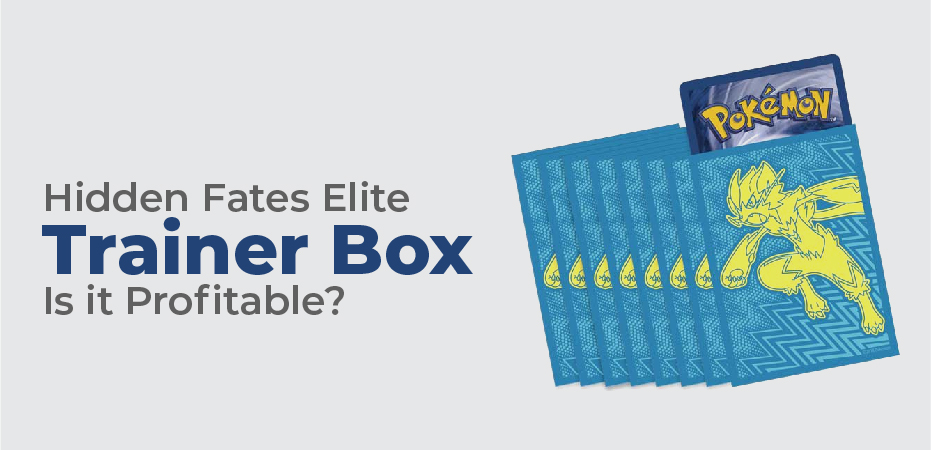 Hidden Fates Elite Trainer Box: Is it Profitable?
There are several chase cards in the ETB, including Glaceon GX, Mewtwo GX, and most importantly, shiny Charizard GX.
Collectors will want to own this card since it is the most valuable in the box. A professional graded card of this card can sell for over $1300. At present, it sells for over $600.
Also, if you're lucky enough to pull another rare card, like Glaceon GX or Cynthia, these cards can sell for around $130 raw and much higher if graded.
While it might sound all well and good, remember that the cards are purely a matter of luck. However, the value does not only come from the rare shiny GX cards, but also from the other cards in the shiny vault.
The graded version of a non-GX shiny card, such as shiny Charmander, can fetch over $130, with upgraded versions bringing around $40. All these Shiny cards are going for outstanding prices, including Lucario, Altaria, and Garchomp.
The odds of landing these cards are slim. You are more likely to pull an elusive non-GX shiny card or even several.
In addition, unlike the Hidden Fate booster box, the ETB also includes a guaranteed full art promotional Moltres, Articuno, and Zapdos GX card that sells for around $25 at raw value.
Why Should You Invest in the ETB?
From the standpoint of a pure fan, the set is definitely worth the investment. In addition to some stand-out GX cards, the TCG set also includes some gorgeous shiny cards. This set is unquestionably a must-have for any Pokemon fan who loves older generations of Pokemon.
In a similar manner, you should also pick up this set from the perspective of a monetary perspective. Since the release of the Hidden Fates Elite Trainer Box, its value has only grown.