How Many Followers on Tiktok to Go Live? Select TikTok users can watch live streaming at the touch of a button, displaying all kinds of content in real-time, including dancing, cooking, and chatting with their followers.
The app has made this function available to users who meet certain requirements, which include the number of followers they have. Here are the steps to go live on TikTok.
Going Live on TikTok
TikTok says, Creators go LIVE to share their passions, show off their talents, or just to connect with their audiences.
Live video creators can share longer-form videos with their audiences. Comments are received in real-time, so creators can respond to suggestions, requests, and questions.
To go live on TikTok, how many followers do you need
TikTok users must have 1,000 followers or more to create a live stream video. Within a few days of reaching this milestone, you will see the option on the app. You must also be 16 years old or older to record live.
If they are over 18, viewers watching live streams on TikTok can send virtual gifts to the streamer as a token of support. The gifts can then be exchanged for cash.
There are also pre-selected donation stickers that viewers can use to make charitable donations. Notably, users are not allowed to bait viewers into sending those gifts according to TikTok's Community Guidelines.
How to Go Live on TikTok
So, how do you go live on TikTok? Just follow these steps:
Open your TikTok app.
At the bottom-center of the screen, tap the Create icon to share content.
Next to the regular record option, tap the Live button.
Choose an image for your Livestream and give it a title that describes what you will be doing.
Tap Go Live to start broadcasting.
When you are live recording, you can tap the three dots to access the settings to flip the camera, add effects, filter comments, and add up to 20 moderators.
You can stop recording by pressing the X.
Tips for TikTok Livestreams
TikTok recommends the following tips when broadcasting live on the app:
Time: Publish when your audience is most active. When you broadcast during primetime hours, you'll have more viewers and higher engagement.
Duration: You decide how long your TikTok Lives will be, but 30 minutes is a suggested length.
Activity: If you post a video before you go live, your viewers who see it in their For You feed can enter your Livestream directly by clicking a special icon that appears with the video.
Quality: TikTok's content must be of high quality. Good lighting will keep viewers engaged, as will clear audio, so try to eliminate background noises.
Connectivity: Make sure you have steady internet access so your Livestream doesn't get interrupted. Preplan the topic of your broadcast to connect with your audience on a more intangible level.
Stillness: Figure out the right angle to film from beforehand, and keep the camera still to avoid too much movement as this can be distracting.
Engage: TikTok Live videos are all about engagement, so be sure to interact with your viewers and build relationships. You can safeguard your content by muting users, filtering comments, and blocking people from your live streams.
Going Live on TikTok
It's that simple to go live on TikTok. You can engage with your followers in real time once you meet the requirements.
You can use it to communicate with your audience in an interactive way. Focus on growing your TikTok following if you don't have access to this feature yet.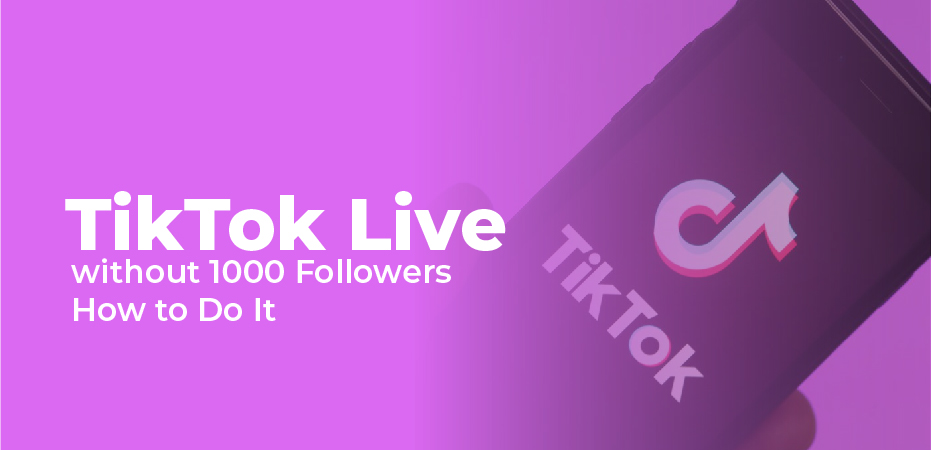 TikTok Live without 1000 Followers: How to Do It
You can also follow these steps if you have 1000 followers on TikTok but cannot go live by 2022. So let's follow steps by steps.
Open the TikTok App on your phone.
Tap the Profile icon, which is symbolized by me, on the bottom far right side of the screen.
To explore settings, tap the three-dot menu.
Tap on Report a problem under the Support section.
Find Live/Payment/Rewards
On the Select a Topic screen, select Live Host.
Next, tap I can't start a live.
You need to choose No, for the question, is your problem resolved?
According to TikTok Privacy Policy, the live option is not available for all users. For more information, visit TikTok's community guidelines.
If you are good at convincing others, write a report and ask them to enable live chat for your account. You could also get help from someone who can really write better.
The only thing you have to do is write to them that you are not able to go Live since the feature is not enabled for your account, and ask them to add it to your account. Also mention that your fans have requested you go live and would appreciate it very much.
The next step is to enter an active email address where TikTok can contact you with an answer.
Their response may take up to 2-3 days.
Lastly, tap Send on the upper-right corner.