Cookie files are small pieces of information that websites store on your phone or computer in order to remember information about you and your visit. Websites can use these to customize and personalize your experience on the web. You might find that your bank uses cookies to remember your login email address and how to display the web page when you visit it. You might find that retailers use cookies to remember what's in your shopping cart when you visit their website.
The use of cookies can sometimes be problematic, however. There are times when you will need to clear your cookies on an iPhone to fix a problem with the way your browser is behaving, or to save space on your phone. Additionally, some privacy advocates recommend preventing cookies from being placed on your computer completely, so that websites will not be able to gather any information about you.
While occasionally clearing cookies is beneficial, we recommend keeping them enabled since blocking them can lead to a less-than-satisfying web experience.
How to Clear Safari Browsing History and Cookies
There are a few options you have when it comes to deleting cookies from the default Safari web browser on an iPhone. There are various ways in which you can delete your web history and cookies at the same time, delete only the cookies, or delete the cookies for a particular website.
This will provide you with instructions on how to remove all of the information from the website, including the browser history, on the iPhone using Safari:
Select Safari in the iPhone's Settings app by scrolling down and selecting it from the list.
Choose to clear the website's history and other data.
If you are prompted to confirm your choice, choose Clear History and Data to delete the history of the websites you visited and the cookies associated with your Safari browser.
When you are finished, close the Settings app.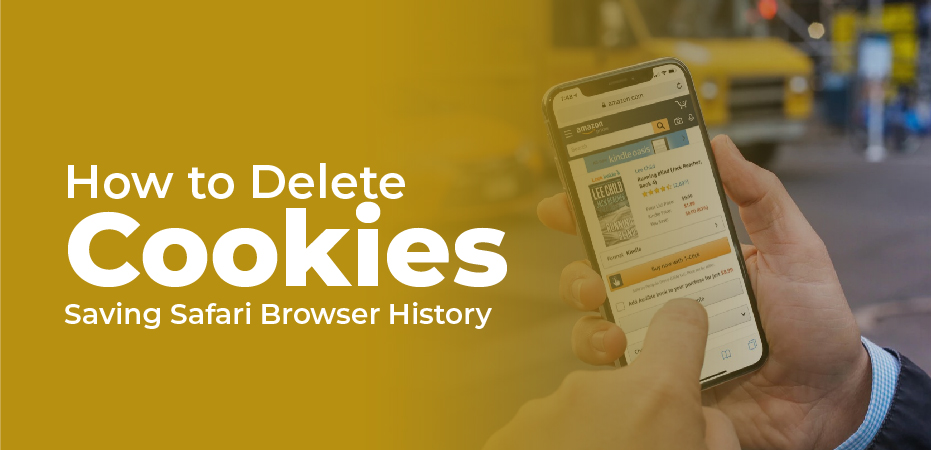 How to Delete Cookies – Saving Safari Browser History
It is not necessary for you to delete the browser history in order to delete cookies from your iPhone. It is also possible for you to delete only cookies, or to delete cookies for a specific website. There will be a time when you will have to log in to websites again after deleting all cookies. It may be necessary to delete the data associated with a particular website if you have problems with it.
Go to the settings of your iPhone and select Safari from the list of options.
Then select Advanced.
From this screen, choose Cookies. A list of every website that has stored cookies in the Safari browser app will appear. From this screen, you can clear all cookies or select specific cookies to delete.
Using the Website Data menu, you can delete individual cookies by swiping left on any of the websites listed, and selecting Delete.
Select the option Remove All Website Data and tap the Remove Now button to remove all the websites in the list.
How to Clear Cookies in the Chrome App
The Google Chrome browser application for the iPhone is an alternative to the default Safari browser that comes with the device.
To delete cookies stored by Chrome, follow these steps:
You can open the Chrome app from the home screen by tapping on the … option (the three horizontal dots located in the corner of the screen below the header).
Then select Settings > Privacy.
Select the Clear Browsing Data option.
Then select Cookies, Site Data, and then choose Clear Browsing Data.
Choose Clear Browsing Data to confirm that you wish to clear the browsing data from the Chrome app.