Curious to know how to stream on Mixer. Popular streamer like Ninja and Shroud switching from Twitch to Mixer, there's a renewed interest in Microsoft's growing gaming Livestream platform. Recent moves have inspired many streaming newbies to consider that maybe Twitch isn't the only place to get their sick skills seen, so you may be wondering how to get started streaming on Mixer. The good news for veterans is that it's not that different from any other streaming platform, but we do have some helpful advice and tips to get you started.
Creating an Account
You can start creating your mixer live streaming account by going to the mixer sign up page. You can find it at the top of the Mixer website on the right side of the screen in the corner. After clicking on that button a window will appear that provides an option to sign in with your Microsoft account. If you don't already have a Microsoft account then you will have to create one, but it only takes a few minutes and then you are ready to go.
This account creation process is quick and very simple to complete. Once you are done with it you immediately gain access to the mixer application, which is completely free.
If you are on Xbox or PC, it does not matter, you could theoretically start streaming immediately because Mixer is built into the operating system for both devices.
Some people like to use streaming software to provide further functionality to their streams, but it is not required. You could start streaming immediately and Mixer has a lot of functions that other streaming platforms do not have built directly into its broadcasts.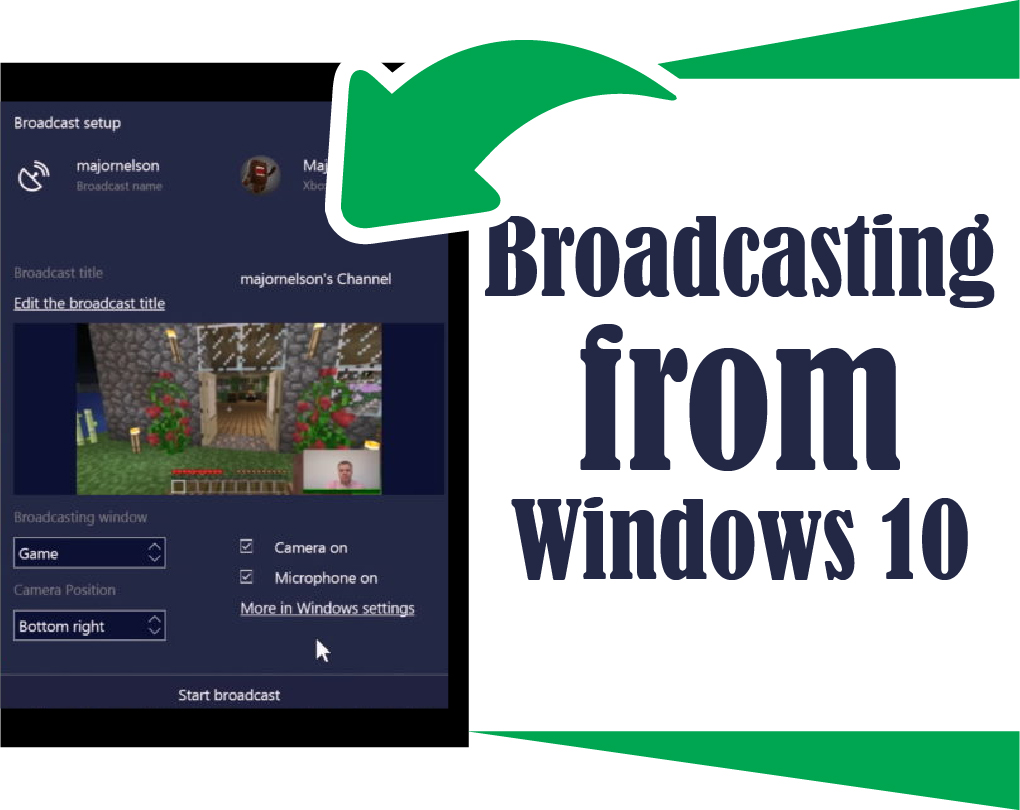 Broadcasting from Windows 10
You do not have to be a mixer pro to stream from Windows 10. If you already have a Microsoft account then you are already half of the way done with setting up your stream. Windows 10 is made by Microsoft and so is Mixer, so naturally, they have made them compatible with each other. This means that mixer streamers that stream from Windows 10 devices will have an exceptionally easy time broadcasting their content to the internet.
Getting Started
The first thing you have to do is get your mixer account situated. Once that task is complete it is as simple as picking a game to play and starting your broadcast with the Game Bar, a Windows 10 built-in feature. All you have to do is select "broadcast" and your computer should start streaming your game to Mixer right away. This can be done using keyboard shortcuts, or by directly interacting with the Game Bar itself.
Holding down the Windows Key (between CTRL and ALT on the left side of your keyboard, most likely), the ALT key, and pressing the B key on your keyboard should immediately bring up the broadcasting tool and from there you can start your broadcast as well as adjust settings. If you already have your broadcast set up to your liking, then you should be able to hold down the Windows Key and press the G key to bring up the Game Bar and start the broadcast without the broadcast fool.
Using the default settings is a good way to get started streaming very quickly, but they aren't going to be for everyone. It is possible, and very likely, that there are things about the default settings you won't like. In which case, you will want to open the broadcast settings using the broadcasting tool I mentioned earlier or manipulate them from the gaming section on your Windows Settings menu.
You can find these settings by right-clicking the start menu and going to settings, then selecting the Gaming section which should appear with a little Xbox symbol next to it. Once you are on this menu there should be several new sections to look through and adjust for the best streaming performance, but the one you are most interested in is "Broadcasting."
Inside of the broadcasting section you will find options for adjusting the quality of the audio your computer records and broadcasts while you are streaming, what devices it will pull audio from and broadcast, or even whether it will record and broadcast audio at all. You can also adjust what it will use for a camera and other video sources and several other settings that you should take a look at before you start streaming.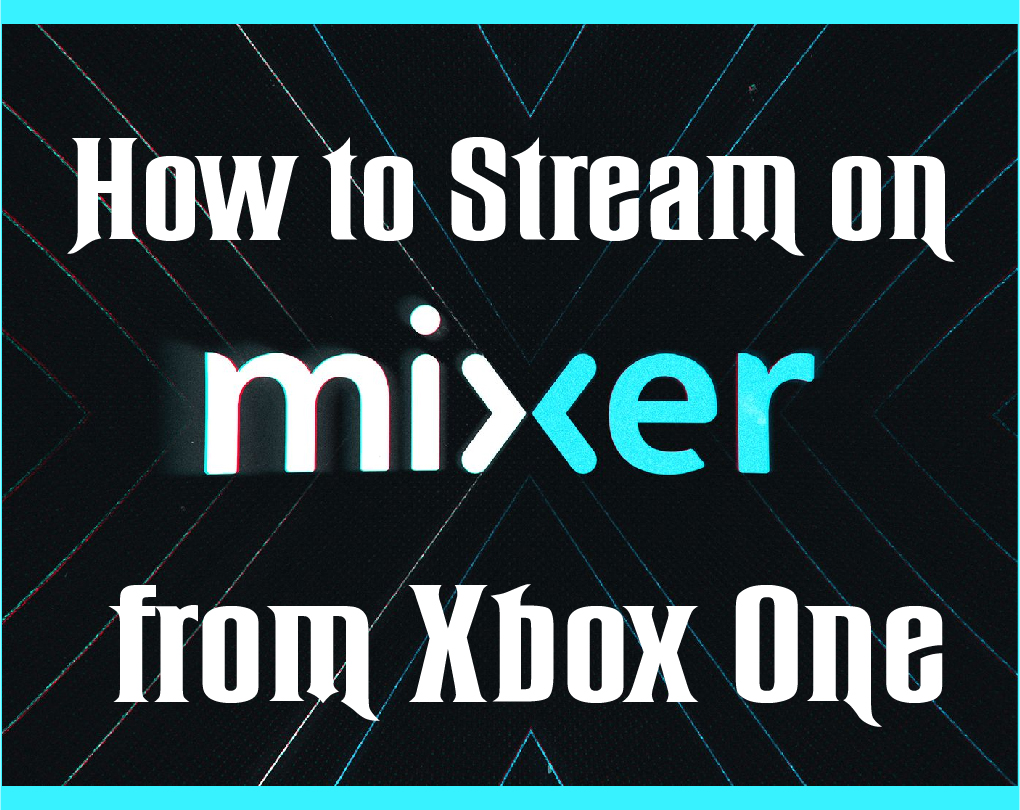 How to Stream on Mixer from Xbox One
To use Mixer from your Xbox One console, you initially got to confirm the app is connected to your Microsoft account. Microsoft automatically generates a Mixer account for you at the beginning you broadcast from your console. But, if you already have an account you want to use instead, you need to unlink the new account and link the preferred one.
To link or unlink an account, go to mixer.com, login, then select the Profile icon > Account > Unlink your Microsoft account.
Once your accounts are associated, follow these steps to start broadcasting on Mixer from your Xbox One console:
Press the Xbox button on your controller to open the menu.
Scroll over to the Broadcast button.
Select Broadcast.
Select more options.
Edit your stream's name and make the other settings changes before you begin
Touch the B button to revert to the main Broadcast menu.
Select Start Broadcast to start streaming your gameplay.
Mixer vs Twitch
As with most gaming platform divides, there are some evangelists who will tell you theirs is the best without considering the merits of others. Twitch, as the undisputed (until now) heavyweight of the streaming world, has enjoyed years of being the only name in the game. As a result, it has a huge viewer base and a solid, established place in communities for many different games. While this is great if you're trying to find streamers into the same games as you, it also gives new streamers a discoverability problem on Twitch.
The mixer is relatively young and new, which means it has the opposite advantage and disadvantages. As a streamer, it's easier for you to be discovered while streaming due to there being fewer streamers in your category, but it's harder to find fellow fans of games that you connect with as a viewer. Both have useable UI and features, though Twitch has only recently dragged itself up by the bootstraps in that regard. If you think its worth reaching out to a new community, here's how to get started on Mixer.
FAQ's 
Q: Which is a better twitch or mixer?
A: Normally, the actual fact that Twitch has more viewers than Mixer is what ways the choose the direction of Twitch. However, Twitch features a well-documented problem of individuals spending months and even years streaming with no viewers.
Q: Do mixer streamers pay tax?
A: Yes, if you earned any money from Twitch or the other platform, you're required to pay taxes on your earnings within the US. This covers profits from ads, sponsorships, donations/tips, and other methods of payment.
Q: How much money do you make streaming on mixer?
A: Subscribers will earn 250 Sparks per minute while watching the channel they are subscribed to. Streamers can also make sparks; at the current rate, streamers earn 50 sparks per minute streamed.
Q; Why do mixers fail?
A: The team behind the platform appeared to be divided, and with that kind of work environment, the company was unlikely to challenge industry giants like Twitch. The report suggests that Mixer was hemorrhaging money with the signings of Ninja and Shroud while internally it struggled to keep its creative team.
Q: Why is mixer not on Xbox anymore?
A; Mixer is no more. Xbox is shutting down its in-house live-streaming service this summer and transitioning its entire platform to Facebook Gaming, in an attempt to rapidly expand its audience base.
Conclusion

Unlike Twitch, which has some fairly lofty restrictions to become an affiliate and the coveted Twitch Partner, Mixer offers a variety of options to create engagement and start earning money. Mixer's use of donation systems and currencies (such as sparks embers and subscribers) provides its streamers with more monetization options some of which very similar to Twitch albeit, with a much lower barrier of entry.