How to unhide apps on iPhone? Protecting your privacy and limiting exposure to certain apps by hiding apps from your iPhone or iPad is a simple way to protect your children. It is not possible to hide or unhide apps on iPhone/iPad totally on iOS devices. It is still possible to conceal your apps without using any third-party applications, however. Follow these steps to learn how.
How to unhide apps using Spotlight Search
If you have installed an app, it will appear in Search. The following steps will help you unhide an iPhone app quickly:
By swiping down on any Home Screen, you can access Spotlight Search.
You can search for an app by typing its name or initials.
An app icon will appear when you tap it.
If you press its icon and drag it down to the Home screen, you will find this app. You can open the app whenever you want since you know where it is located.
How to unhide apps by unhiding Home Screens
In iOS 14, it is possible to hide Home Screens, which also hides all the apps on it. In that case, repeat the same steps to reveal the Home Screen, which will automatically reveal all the apps on it.
How to unhide apps using App Library
Starting with iOS 14, iPhone has an App Library that contains all installed apps. You can find an app here by following these steps:
To access the App Library, swipe left on the last Home Screen.
The app will be in one of these folders. You can also swipe down the App Library screen to find all apps alphabetically by tapping the search bar.
Next, here's how to move the app from the App Library to the Home Screen if you like.
How to unhide apps from folders
It is possible that you accidentally hid an app within a folder or layers of folder pages. In this case, follow these steps:
View app folders by swiping through your Home Screens. There are no app folders in the App Library and they are always on the Home Screen.
Open a folder by tapping it.
If you see your hidden app here, press its icon and drag it onto the Home Screen. Please try other folders if you can't find what you're looking for.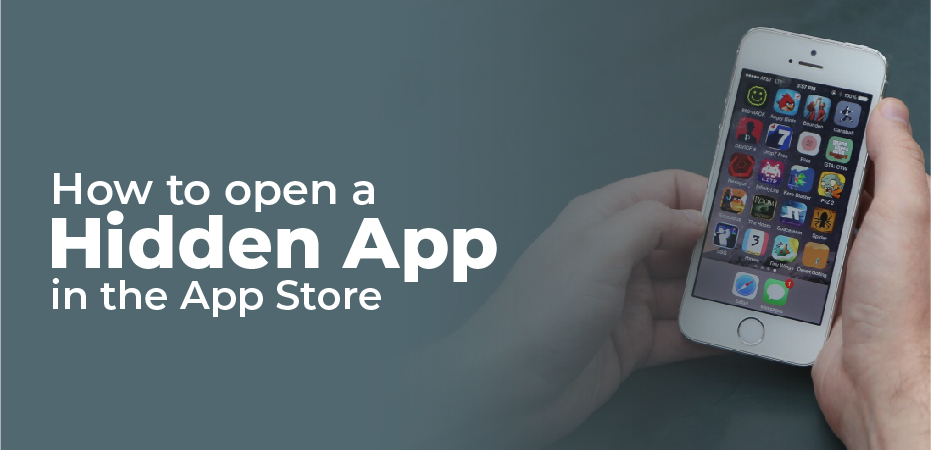 How to open a hidden app in the App Store
Tap Search after long-pressing the App Store icon.
Type the app name.
When the app is ready, tap Open. It will display Update instead of Open if the app is not updated. Fortunately, you now know that it's on your device. Simply tap Update and then tap Open when you see it. You may also open it or add it to the Home Screen using the other methods listed here.
Note that this is different from hiding and unhiding apps from your purchase history.
How to use Siri to find hidden apps
The voice assistant can be accessed by pressing the Side button, Home button, or saying "Hey Siri."
Say "Open [app name]."
Steps to unhide applications by resetting the Home Screen layout
You'll lose your Home Screen app arrangements and folders if you proceed with this method. Your iPhone's layout will resemble a newly set up device. There is no need to worry, as this will not delete any apps or their data, it will just reset the dock layout and screen layout.
Tap General from the iPhone's settings.
Tap Transfer or Reset iPhone.
Tap Reset.
Click Reset Home Screen Layout to complete the process.
How to prevent apps from hiding on your iPhone
You cannot find a new app on your iPhone because it doesn't create its icon on the Home Screen, but only in the App Library. This allows for a less cluttered Home Screen, but it also hides them from plain view. If you want to fix this, set your iPhone to download apps directly to the Home Screen instead of the App Library.
Still can't unhide the app?
You or your parents may have restricted the app through Screen Time if you are still unable to locate it. It is highly likely that these settings are protected by the Screen Time passcode. Therefore, if you don't know your password, you can reset it here. Encourage your parents to unhide or un-restrict these apps if they set them up in the first place.
Tap Screen Time in the iPhone or iPad Settings.
Select Content and Privacy Restrictions.
Check that the toggle for the app is green by tapping Allowed Apps.
Ask your parents to re-allow an app like YouTube if they have restricted it by age limit by going to Screen Time > Content & Privacy Restrictions > Content Restrictions > Apps > Allow All Apps.