Follow this guide on how to uninstall McAfee to remove McAfee software without much effort using your computer's system settings. These tips are possible if your computer came preinstalled with McAfee, or if you have selected to go with a new antivirus program. You can also remove this by using the McAfee removal tool.
Do you Need McAfee?
McAfee is an antivirus software that is made to secure you from exploits on the internet. The internet world is full of hackers and cybercriminals who may attack you. If you are victimized with malware, ransomware, a Trojan, a worm, or any other kind of exploit, your data could be by hackers.
Under the most dangerous circumstances, the hacker could take over your entire system and turn on the cameras or microphone to snoop on you. They could also steal all your personal information to make identity theft or get into your bank account.
These threats are very serious, and you must protect yourself against them, either with McAfee or some other antivirus program. Which antivirus software you choose to use is completely on you. However, we heartily suggest that you get an up-to-date service that gives real-time, active malware protection.
Using the internet without any system protection is a very risky endeavor, and it is much better to use McAfee than no antivirus at all. Overall, McAfee is considered an excellent antivirus program. However, few people think that McAfee a little pricey and they can get similar security for less. Thus, the choice is yours.
Some key advantages of the McAfee program are listed below, which if bought using the Total Protection package comes with many extra features:
Real-time web protection
Protect against all kinds of exploits
Identity theft protection
Safe browsing
Password manager
Encrypted storage
Parental tools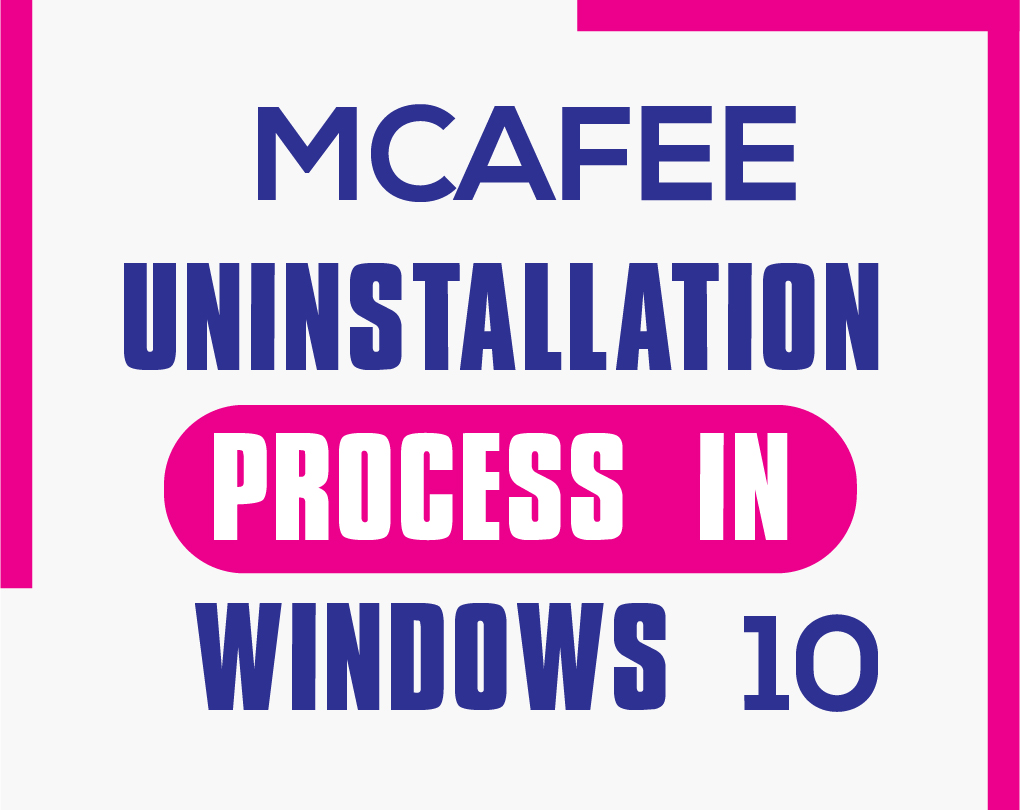 McAfee Uninstallation Process in Windows 10
From Control Panel
McAfee's uninstallation improved over time. Like any application installed on Windows, you can remove McAfee from the control panel of the system. These are the basic steps listed below to uninstall McAfee on Windows 10 using the control panel.
Open Control Panel by typing it in the start menu search bar.
After opening the Control Panel press on the "Programs and Features" button option. If you can't find the option, make sure that the view is set to "Large Icons".
This is where you can uninstall programs. Locate the McAfee antivirus, right-click the text, and select the "Uninstall" option. Most of the time, McAfee's antivirus is texted as McAfee LiveSafe.
In the opened McAfee screen, choose "McAfee LiveSafe" and "Remove all files for this program" checkboxes and press on the "Continue" button. If you see at the bottom of your screen you will find that McAfee is not removing its Web Advisor program. We need to uninstall it manually.
In this pop-up warning window, just press on the "Continue" button.
After clicking on the continue button, it will start uninstalling automatically. It can take few minutes to completely remove McAfee on Windows 10. So, please wait.
After ending the process, just press on the "No thanks" key.
Press on the "Restart now" button to remove the McAfee completely from your device.
Remember, we still need to remove the McAfee Web Advisor application too. So, after restarting the PC, again go to "Control Panel" and then "Programs and Features", right-click on the McAfee Web Advisor, and select "Uninstall".
McAfee can give you some warnings to make you keep the application. In most cases, it shows that it protects you from identity theft and password theft. Which is fake. Just push on the "No thanks, just Uninstall it" button on the left-hand side. Notice- Not the big blue button.
After pressing the button, the software will be uninstalled completely.
After that just restart your PC, Just to make sure that McAfee is completely uninstalled.
McAfee has some files that can leftover even you uninstalled the program. So, after restarting your system, go to File Explorer, open C:\Program Files, select McAfee, and press the Delete key on your keyboard.
If a warning window popped out, just click on the "Continue" button to continue to delete the McAfee folder on your Windows.
How to Uninstall McAfee from a Mac
Search and open the Applications folder in the dock, or move to the folder from a Finder window.
Simply run the McAfee Internet Security Uninstaller app.
Choose the Uninstall Site Advisor checkbox to delete the McAfee browser add-on.
Then press 'Continue'.
After that enter your administrator security password and press OK.
Press the Finish button after the uninstallation process is complete.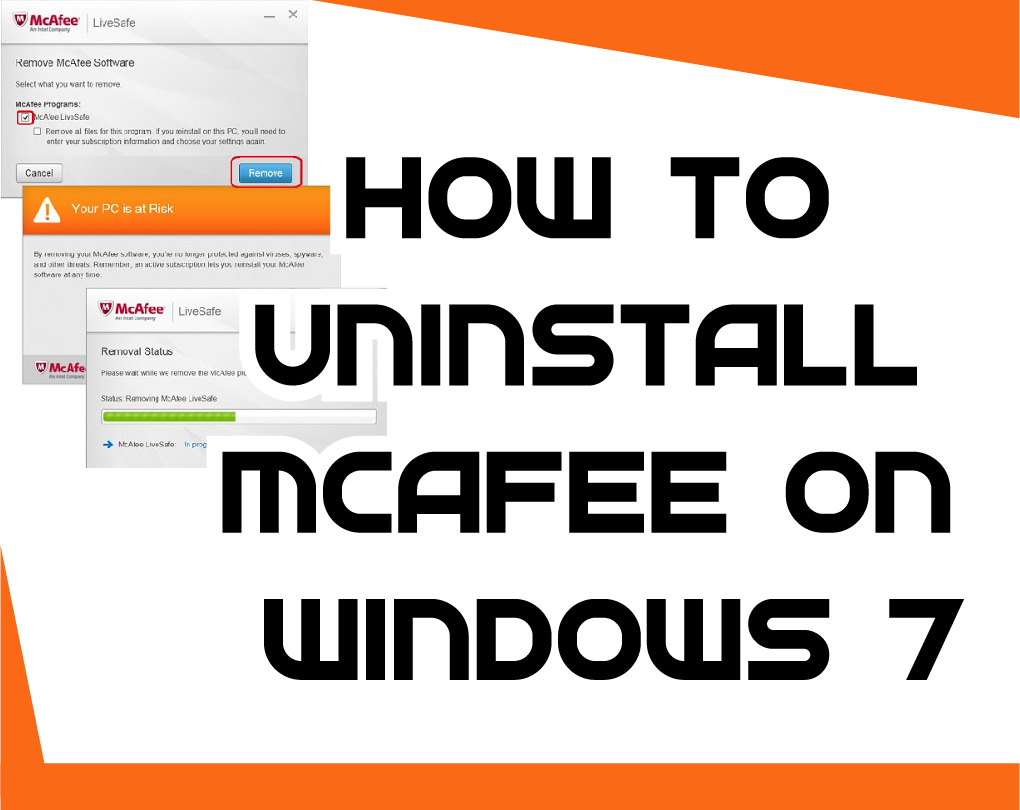 How to Uninstall McAfee on Windows 7
Shut-down every McAfee application which is running on your computer.
Press on "Search" from the Windows Start button. Just type "Programs and Features" in the search box of your PC and press on "Go".
Simply press two times on "Programs and Features" in the search results.
Next, just press on "McAfee Security Center" and then again press on "Uninstall". You can also follow the above instructions of Windows 10 to delete McAfee from the System.
Deleting McAfee from Windows by the McAfee Removal Tool
If you do not understand the above-listed methods to remove the software from your computer's settings, you can also use the McAfee Removal Tool software to delete the software.
From McAfee's website just download the MCPR tool.
Double-click MCPR.exe after the download is complete.
Select Yes, Continue. If a security warning appears, select 'Run'. The McAfee Software Removal Tool will open.
Choose the 'Next' button on the McAfee application Removal screen.
Choose to Agree on the End User License Agreement (EULA) page.
Next, just type all the characters shown on the Security Validation page, then press Next.
Wait for the tool to delete the application. This may take several minutes.
Press on Restart when you see the Removal Complete directions.
FAQ's
Q: Why is McAfee so hard to uninstall?
A: There are 3 common reasons that software can be hard to remove: intentional or malicious, complexity, and laziness. Intentional: Many application vendors think that if they make it hard to uninstall their software, we won't and that we'll continue using it. Unnecessary to say when someone's faced with the impediment of deleting such a beast the short-term solution might occasionally be to give up, but the longer-term impact is a vow never to insert that application again in the initial place. Complex:Our machines are complicated enough as they stand, but nowhere is that complexity more prevalent than when it comes to protecting applications. Lazy: There are steps to be made, like-do you delete all the registry settings that retain a user's customization in case they re-install the application, or do you remove all that stuff to be absolutely complete.
Q: Should you uninstall McAfee?
A: As long as you have reliable antivirus software running and your firewall is enabled, you're mostly secure, regardless of whatever marketing-speak they throw at you when you try to remove it. Just do yourself a favor and keep your system as much as possible clean.
Q; Why is McAfee so bad?
A: People are hating McAfee antivirus software because its user interface is not user-friendly but as we talk about its virus protection, then it works well and applicable to remove all new viruses from your PC. It is so large that it slows down the system. That's why.
Q; What happens if you delete McAfee?
A: When the deleting process finishes, your McAfee files are no longer available on your system. Your system is no longer secured from viruses, threats, and malware when your McAfee software is deleted. Just confirm that you reinstall your security software as soon as possible to make the protection of your system.
Q: Can McAfee be trusted?
A: If you have McAfee Internet protection or McAfee Antivirus Plus, you will only be able to point systems as trusted. If you have McAfee Total Security, you will be informed when an untrusted person or threat enters your network.
Conclusion 
McAfee antivirus application protects your system and data against all major cyber threats, such as viruses, ransomware, malware, unwanted programs, spyware, and more. But many times it can be worst for your system. So if you are looking for how to get rid of this you can check it out up there.