We have been using the iPhone for more than five years and the iPhone revolutionized the mobile phone and the way in which we communicate today. There has been a lot of change since then, but the fundamental limitations Apple imposes in the realm of iPhone data transfer to computers have not changed. I will discuss here ways of circumventing Apple's restrictions on backing up iPhone to computer in an effort to backup iPhone to computer.
How To Backup iPhone Contacts to A PC
Since the advent of iCloud, it is easier than ever to transfer iPhone contacts between multiple devices and to store iPhone contacts on Apple's servers and transfer them between multiple devices. Nevertheless, what if you wanted to create an offline backup of your contact list that would be protected from a third-party company's servers? Are there any methods for backing up iPhone contacts directly to your computer?
Well, the answer is not that simple at first because there are hundreds, if not thousands, of apps that promise to import, export, transfer, or backup iPhone contacts. To sync iPhone contacts with your Windows contacts, you can use iTunes. The only requirement here is that your iPhone must be synced with iTunes. In the event that you have not previously synchronized your iTunes library with your iPhone, you run the risk of your iPhone music being wiped off by iTunes.
It was not too long ago that I stumbled upon several 3rd party programs that were designed to manage iPhone contacts; a few of these programs also allowed you to transfer and backup iPhone contacts to other locations, such as a new iPhone or directly to a PC folder.
We would like to provide a quick overview of the first program we tested, called Copy Trans Contacts, in action.
As this program requires you to have a Windows computer in order to use it, if you are using a Mac or do not wish to use a computer to back up your iPhone data, please scroll further down the page. After connecting your iPhone to your PC, you will be able to see your contacts on the screen.
The only thing you need to do is to select your iPhone contacts from the program window and drag them to a folder on your computer. You will be able to transfer your iPhone contacts in the form of *.vcf files which are included in that folder. Later, if need be, you can use these files and restore them to your iPhone, or even to another iPhone if you like.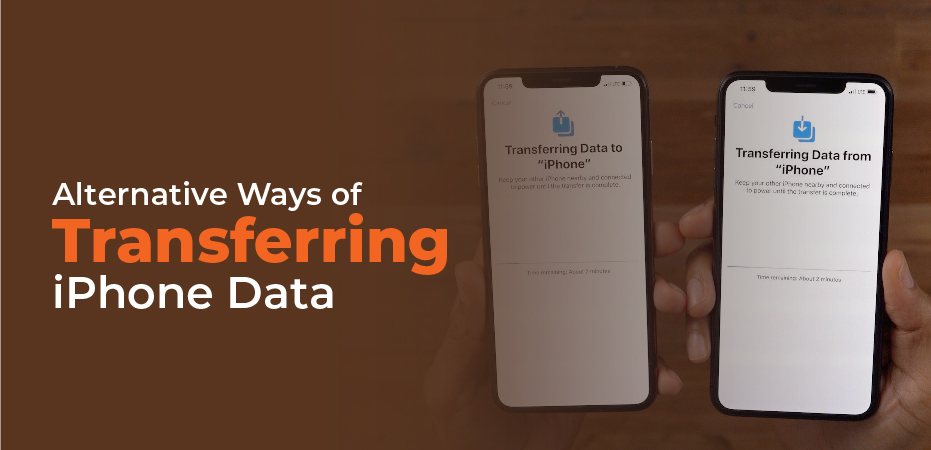 Alternative Ways of Transferring iPhone Data
If you want to transfer iPhone contacts via your computer or directly through your iPhone, there are a number of ways you can do it. My Contacts Backup, for instance, would send your old iPhone contacts to your email account, from which they could be recovered on your new iPhone.
Use Smart Contacts if you want to bring all your contacts from various online accounts, such as Facebook, LinkedIn, Email, etc, to your iPhone.
Your contact data from your social and online accounts will be uploaded to Smart Contact's servers and displayed within the app designed to run on your iPhone.
Google Sync lets you sync your iPhone contacts and other data to your Google account
For those with a Google account, Google Sync is a popular way to back up their online data. If you do not already have a Google account, you can easily create one. With Google sync, you can sync your Contacts, Email, and Calendars to your Google account on your iPhone.
In the "Info" tab, select the "Sync Contacts with" option under "Sync Contacts with" to sync iPhone contacts via iTunes sync.
You can use Google Sync directly on your iPhone instead of iTunes sync if you wish to avoid iTunes sync. You can do this by going to Settings > Mail, Contacts, Calendars > Add Account > Microsoft Exchange.
Please follow the set-up wizard where you will have to enter your Google credentials in addition to Google's mobile server (m.google.com).