The popular Roblox fighting game My Hero Mania is influenced by anime, with players taking on quests against villains like Mr. Cool to PVP fights against other Heroes. At the end of the day, you're going to be aiming to become a Legendary Class Hero, and you'll need codes to get there quickly.
Free spins can be obtained in the game by using My Hero Mania codes, so you can have more chances to get that perfect Quirk. Game developers create codes that are given out periodically – so make sure to check back regularly to see any new ones available.
The game is developed by a team of experienced and professional game developers worldwide. The gameplay is straightforward, but the graphics are stunningly beautiful. If you want to know what all the fuss is about, you should try it yourself.
How do I redeem My Hero Mania codes?
You probably already know that My Hero Mania requires players to spin their characters to change their characters' quirks. We are here to help you grab more spins so that you can change your Quirk more than once with the My Hero Mania codes. The game developer sends out these codes, and they are entirely safe for use.
My Hero Mania Spins We have collected a list of all the different types of My Hero Mania spins that are available for you to use. These are the most popular ones we found in our research, but there may be other ones you can find. The codes are straightforward to use, and you don't need to download anything from the website. Enter the code into the game, and you will be able to use it immediately.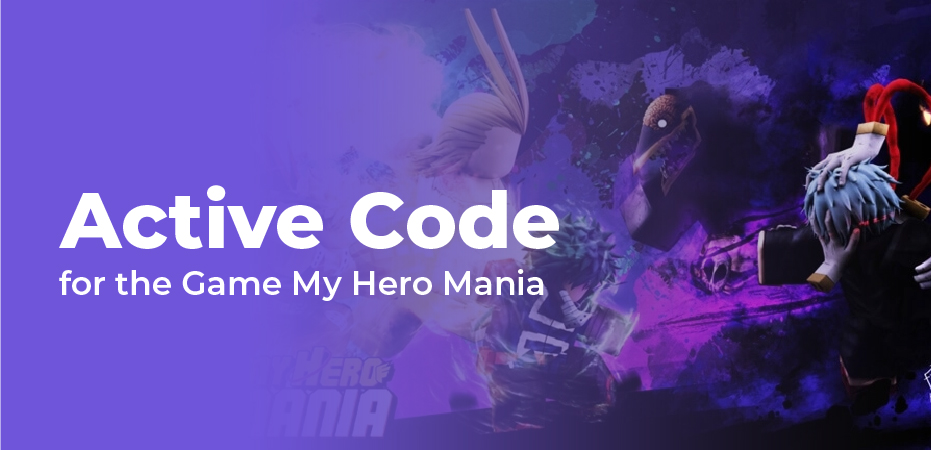 Active Code for the Game My Hero Mania
The following is a list of all the active My Hero Mania codes:
280kLIKES – 10 spins
270kREAL – 9 spins
260ktime – 8 spins
the250k – free spins
240kCODE – 7 spins
Expired Code for the Game My Hero Mania Codes
230kcode!
likereward1
thank220k
210kCODE!
70kalready
80kcode!
its90k!
the100k
newupdate!
spinner180k
zi170k
theultra190k
110kcodeyay
plus120k!
big130k
goal200k
ultra140k
letsgo150k
160ktux
FirstCode!
What Are The Steps To Redeem My Hero Mania Redeem Codes?
After launching the game, the resources will load.
Select the code box from the menu.
Select a redeem code from the list above.
Click the button to claim the offer.
Where Can I Get More My Hero Mania Codes?
New Roblox codes are often found on the developer's social channels, as is often the case with Roblox games. If you're interested in My Hero Mania, you'll want to keep an eye on the developer's Twitter account to get the latest codes as soon as they become available. This list will be updated throughout the week, so you'll never miss a single code, so bookmark this page and check back throughout the week.
If you've found a working code for My Hero Mania that's not on this list, please leave it in the comments below, and we'll add it to the list. New Roblox Codes – May 5, 2019 (Updated May 7, 2019. If you don't see your game in this list, it doesn't necessarily mean that the game is no longer available, but more than likely means that it's not yet live.
How Do I Get The Latest My Hero Mania Update?
My Hero Mania hasn't been updated for a while now. Several new features were added in July's major expansion:
The game now has a gym
legendaries have been overhauled
There has been an increase in the maximum level
The changes to My Hero Mania since then have been minimal. As part of the brand-new My Villain Academia arc, the server names and roles were changed in August. Since then, My Hero Mania has been in radio silence. It is a matter of waiting to see when the Roblox game's next expansion will arrive, as the game's description still promises "more updates soon."