Our phones give us the ability to take footage of our entire lives. Unlike previous generations, we can document our world endlessly, with no need to carry a camera or pay–and wait–to get the film developed. And yet, the resulting photos are not nearly as good as what we got with film. Digital images are too posed, too hi-def. So when I look at an iPhone photo, instead of appreciating the moment, I'm staring at all the flaws the camera has amplified.
If you're like me, you've probably looked longingly at the stills your DSLR takes and wishes for the ability to quickly capture the essence of your experiences with the same snap. And while the iPhone's 8-megapixel camera isn't bad, it's nowhere near a dedicated still camera quality. The solution, of course, is a compact digital camera–a camcorder. And that's exactly what I'm about to show you. Design As with any camcorder, the first step in using this camera is figuring out where it should go.
Since it's not meant for use as a regular point-and-shoot, the Micro Four Thirds sensor, or MFT, the mount will make it easier to use than its DSLR counterpart. It also has a smaller footprint, so it won't take up much room in your bag. The camera has a standard tripod mount on the bottom, where the included lens cap and battery charger are stored. Remove the cap and charge the battery when you're ready to start recording.
Appealing to the Eye but Not Look Good – Paper Shoot Camera
Paper Shoot has no screens, like an old-fashioned analog camera. It allows you to be present when you take pictures without worrying about whether they are good (and retaking them, if necessary). What happened to having faith that everything would work out OK? InIt's instead a matter of uploading your photos later from your SD card. It is recommended to use a card with 32 gigabytes of storage.
The pictures themselves also look like film. A 13-megapixel image sensor takes big, old-school photos with just a little grain. In addition to color, there are black and white, sepia tone, and blue tone options. Whatever you choose, you'll capture a memory beautifully, without the extreme high-definition of your phone. Indoor photos need natural light, and night photos may be slightly blurred since there is no flash. Although these limitations affected my photos, I liked them.
There's nothing else to play with on the back except the switch between those color settings. Other than the shutter button on the Paper Shoot, there is only one button on the device: the button on the front of the camera, near your pointer finger when holding it.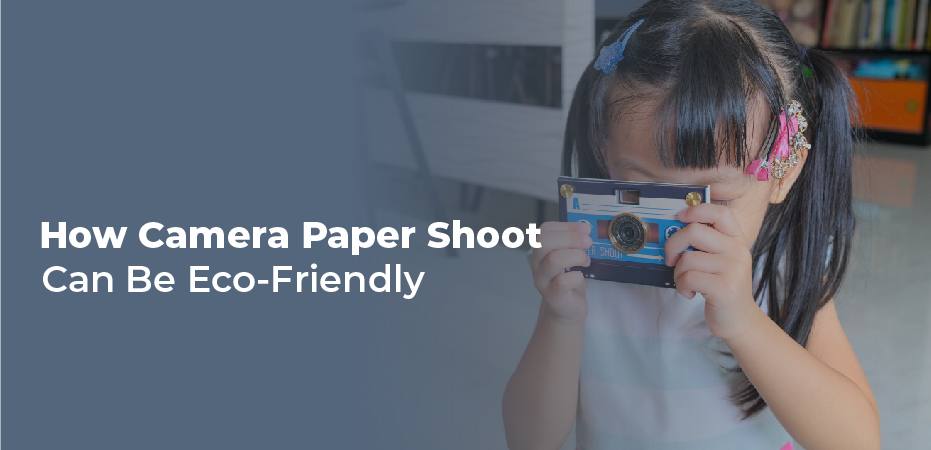 How Camera Paper Shoot Can Be Eco-Friendly
The importance of eco-friendliness and sustainability to consumers is increasing exponentially. A dialogue needs to occur regarding a company's contributions to a growing market of sustainable and ethical products when it comes to ensuring our resources and preserving our planet and its communities. As part of that dialogue, we want to be open and honest since we don't believe in making claims about sustainability without backing them up.
Ethics
Paper Shoot believes in fairly compensating our employees, and we want to make sure they know how valuable they are. We can provide jobs and stability for the Taiwanese community by retaining workers in the supply chain instead of replacing them with machines. The company makes sure all employees make living wages and treats them with the gratitude, respect, and kindness they deserve at every level.
Environmentalism
Paper Shoot was created in 2013 by George Lin, who has been an admirer of analog photography for his entire life but could never afford it in his youth. The idea was to make a camera that was easy enough that anyone could use it, that was more cost-effective than analog photography, which was gentler on the environment. Thus, Paper Shoot was born.
When the person who has the Paper Shoot is done using it or has reached the end of its useful life, we take the camera back and recycle it to make a new one instead of letting it waste away in a landfill. The lenses we use come from Apple's lenses, going to a landfill as the company developed higher resolution products. Thus, we took what would've been trash and produced these incredible little cameras!